Aberdeen Airport Minibus Hire 
Hire Minibus Aberdeen
Always use Aberdeen Airport Minibus Hire whenever you need to arrange minibus or coach hire. To take you to an Aberdeenshire take-off or pick you up from a landing. Whether you are heading into town for a match with friends at Pittodrie or attending a marketing conference for oil executives. We're the company to get you there – in comfort and on time.

We have drivers based in central Aberdeen but they do not only serve the Aberdeen to Aberdeen airport vicinity.  Whatever your pick-up location, we will come to get you. We provide several regular shuttle services. Montrose to Aberdeen Airport, Dyce to Aberdeen Airport. Forres to Aberdeen Airport, Elgin to Aberdeen Airport. Furthermore, we can even take you to Inverness to Aberdeen Airport and Glasgow Airport to Aberdeen Airport. 
Therefore if you opt for local coach hire, Aberdeenshire is crossed far more quickly when one of our local drivers are at the wheel. They drive vehicles that come from a fleet of well-maintained minibuses. These are available in several capacities: 8 seats, 16 seats and 24 seats. We can provide 33 seaters, 49 seaters and 70 seater coach hire and we want to be able to do even more to be able to give you the best service because we care about our clients and belive every trip is important. So whenever you are heading off on your cheap holidays from Aberdeen Airport as part of a large group.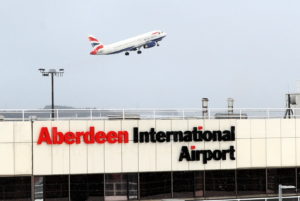 ABERDEEN – Get there with Aberdeen Airport Minibus Hire 
Aberdeen is a coastal city in the northeast of Scotland. Originating as a farming town, the region soon developed as a centre of textiles. As well as shipbuilding and fishing. Come the 1960s and the arrival of oil exploration. Aberdeen was transformed into the UK's foremost oil city.
This industrial growth brought visitors from around the world. Some for temporary work and some to live in Aberdeen permanently. It's a great place to call home.
THINGS TO DO
Aberdeen can be seen as an industrial centre with the limited aesthetic appeal but to lessen this all-encompassing industrial overtone. Many parks were built in the city. One of these is certainly Duthie Park. A stunning, verdant oasis lined with trees, lakes and walking trails.
Aberdeen Arts Centre is where you will find a gallery space, cafe and conference rooms. There is also a theatre with a wide-ranging programme. The Maritime Museum cleverly presents the port history of Aberdeen for all to enjoy.
WHY VISIT?
Aberdeen is always a great place to visit and travelling by plane is the best way to get there. Whether flying British Airways or Lufthansa, Aberdeen Airport is always the start of a great break or successful business trip.  And if you wish to get out of Aberdeen to visit nearby towns like Black Dog. Potterton or Kingswells, our minibus and coach hire can take you there.
Making a booking is simple with Minibus Hire Aberdeen – just phone or email us with your requirements. Once we have allocated you a driver, you will be sent confirmation as a result of your booking. We can also offer wheelchair accessible vehicles for hire. This transportation comes with wider doors than usual as well as a lift and ramps.
Special client accounts can be set up for businesses requiring repeat journeys to Aberdeen. Above all these accounts ensure travel bargains on future journeys with discounts guaranteed on multiple bookings.

To book with Aberdeen Airport Minibus Hire Aberdeen, please see these details:

T: 01224 390 438
E:  [email protected]