Minibus Hire Stonehaven
With Minibus Hire Stonehaven you can plan all of your minibus or coach hire whenever you need to get to Aberdeenshire. If you are travelling with friends for a weekend at the Fowlsheugh bird reserve. Or just spending time in the area with family, we're the team to rely on to get you there.

Our team of drivers operate from the middle of Stonehaven but they also cover the wider area. Whatever the location of your pick-up, we can collect you. All drivers can also take you out of town and provide journeys to Aberdeen airport if required at the end of your trip.

If you opt for local coach hire, Stonehaven becomes so much more fun to explore when in one of our many vehicles. These all come from a rank of well serviced, stylish minibuses. 
These are available in a wide range of capacities: from 8 seats to 16 seats to 24 seats. We also have a 7 seat MPV. When you are off to Stonehaven as one of a bigger group, we can provide 33 seaters, 49 seaters and 70 seater coach hire.

STONEHAVEN
Stonehaven is a beautiful town on the northeast coast of Scotland. As a settlement, it dates back to pre-Neolithic times and developed history as a busy, little harbour with industry that drove the local economy. The old fishing village of Cowie was absorbed by Stonehaven some time ago. Today it is a lovely working harbour town lined with wonderful sailing yachts.
THINGS TO DO – With Minibus Hire Stonehaven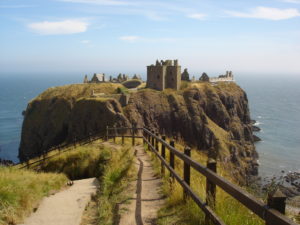 High above the region, atop nearby cliffs sits the ruins of one of Scotland's finest museum sites, Dunnottar Castle.

Haven Fish Bar is where the infamous Scottish deep-fried Mars bar was first sold. The Tolbooth Museum holds many local treasures and is worth a visit for its area alone – it lies within an old courthouse and jail.  The Stonehaven Highland Games features the hammer, caber tossing and traditional heavy stones. Beautiful Stonehaven Harbour and its array of pretty, little vessels is a picturesque place to spend an afternoon.

If you fancy some shopping, check out Stonehaven's Market Square. The New Years Eve Hogmanay Fireballs Ceremony is an amazing spectacle that people come from far and wide to enjoy.

WHY VISIT?
Stonehaven is well worth a visit if travelling from Aberdeen to Stonehaven or Glasgow to Stonehaven – or from further afield. Whether heading to the beach with family or off to Stonehaven golf course with work colleagues, a great time will be had by all.  
And if you wish to get out of Stonehaven to visit nearby towns like Luithermuir, Gourdon or Fettercairn, our minibus and coach hire can take you there. Making a booking is simple with Minibus Hire Stonehaven – just phone nor email us and we'll take it from there. All of our drivers are professional and keen to help.

Customer accounts are available for any business that will be making repeat journeys to Stonehaven. These accounts guarantee savings for you over time in the Aberdeenshire region. Our company also has a supply of wheelchair accessible vehicles for hire. These come with wider doors than usual as well as an automated lift and ramps.


To book with Minibus Hire Stonehaven, please use the info. below:

T:  0203 239 4622
E:  info@investravel.com